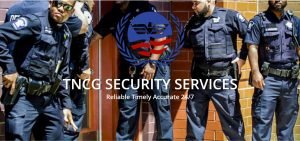 Reliable Timely Accurate 24/7
TNCG Security Services
Job Description – (1) Unarmed Security Guards
TNCG Security Services is now hiring Unarmed Security Guards, in Charlotte, NC
Payrate: $15/Hour
Location: Charlotte, NC
Work Detail: September 28th- October 9th
Total National Security Guard Services (TNCG Security Services, LLC) is a private investigative and contract security guard patrol company owned by a service-disabled veteran and a retired police officer specializing in comprehensive investigative services.
Security Job Responsibilities:
Monitors his/her staff by patrolling with them on foot.
Assist with monitoring of Mask Requirements for COVID-19
Works with staff to develop safety plans for the buildings he/she monitors.
Leads periodic safety drills for employees and patrons in the business.
Ensures that all policies and procedures are followed
Ensures that reports (DARS) are written as needed.
Reviews and signs off on Security Guard reports (DAR) and logs before they are turned in.
Conducts routine area checks during the shift.
Any and all additional duties assigned as deemed necessary and appropriate
Education Requirements
A security supervisor must have experience as a security guard, police officer or military police officer.
PPSB Unarmed training certification
Experience working with electronic monitoring systems (Preferred, but not required).
Associate Degree, High school diploma or GED
A valid driver's license and no criminal record.